Join us in congratulating our Footprints Writing Club™ authors!
Stories From The Heart, Vol. 2 made it onto Amazon.com's bestseller list!

And vol. 3 is hot off the press -- new, with memoirs, a brand new section, Fairy Tales for Grownups™, plus expanded Imagination and Memoir Writing Tools to entertain and inspire you to write yourself!

All the Stories From The Heart books make perfect companions to "How To Write Your Memoirs..." containing examples of both memoir and fiction, plus tools in Vols. 2 and 3 to open you to write more creative memoirs of your own!
Hot off the Press!
Of Politics, Ladies and Bagels
Poetry Provocative and Punny

Available at Amazon.com, Borders.com, BN.com or ask at your favorite bookstore

Publisher: Pawpress
ISBN 978-1-880882-17-7

Of Politics, Ladies and Bagels is a collection of (mostly) rhyming poetry springing from the provocative, insightful, romantic and playful mind of its 92 year old gentleman author, Gene Zahn. His book includes social and political poems - some serious, others couched as potatoes, or bagels – almost all penned in rhyming verse. Themes range from experiences of a young man growing up to thoughts on how to achieve a better democracy. And there are odes to ladies galore, topped by moving, endearing elegies to Judy, the love of Gene's life.




Free Downloadable eBook Version
Read excerpts

Reviewers Toast Zahn's "Bagel"

"Gene Zahn delivers an abundant treasure of whimsical observations. Edgy, insightful, entertaining. "
Joe Siegman, Author, "Jews and Sports"

"Zahn's poetry embraces and honors all the pivotal moments of life – from a child's eye, to a soldier's angst, to a young man's dreams and thoughts. His words will jump into your heart, instilling wit, laughter, gratitude and nostalgia for what was and could be. Thank you, Gene. You have inspired me to notice the particulars, enjoy the humor in subtleties, and appreciate the evolution of life."
Lisa Boren, "Happily married mom." Honors: Phi Beta Kappa and Magna Cum Laude

Wine, Women, Whispers
By Alon Mintz, a.k.a. Rocky Mintziano, Adam Savage, Ali Mintez...

Available at Amazon.com, Borders.com, BN.com or ask at your favorite bookstore

Publisher: Pawpress
ISBN 978-1-880882-14-6

Wine, Women, Whispers....Tales by a master storyteller who was kidnapped, twice, was almost killed by the best hospital in London…A boxer...Serial entrepreneur... Lover of ladies, food and wine





"Riveting!"




Read more reviews....



Excerpt: Intro
Excerpt: Guy's Hospital, London
Excerpt: Beirut -- Kidnapped!

"Wine, Women, Whispers is about a quirky and very interesting man of the world...I loved the homage to his mother, which is very tender. The book makes me want to know more about the author -- whether he is called Alon Mintz (his given name), Rocky Mintziano, Adam Savage, Adam Stephens, or Ali Mintz. His crazy and not so crazy escapades are fun to read, and make me kind of envious that I haven't done half the things he has in his lifetime." Susan Pinkus, Former Director, Los Angeles Times Polls

Order Yours Now on Amazon.com, Borders.com, BN.com or at your favorite bookstore!
STORIES FROM THE HEART,
VOL. 3 is now out!
Available from Amazon.com, or ask at your favorite bookstore.
Publisher: Pawpress
ISBN 978-1-0880882-12-2

"More Enchanting Memoirs and Imagination Tools to Help You Write Your Own Enchanting Memoirs"

"This volume of 'Stories From The Heart' provides another lively sampling of stories that will engage the reader' emotions and minds. And the writing cues will inspire both new and published authors to put pen to paper." John Bragin, Co-founder and Past Coordinator, UCLA Extension Film and Television Certification Program



See book cover enlarged

Peek Inside



"These stories open a window on vivid worlds of memory and imagination. A pleasure to read."
Lisa Diana Shapiro, Playwright and screenwriter

"Multi-hued, textured tales -- from such yarns was woven the American Dream."
Marvin J. Wolf,Author of "Fallen Angels" and many other nonfiction books

"These stories, and the prompts, say to me, 'I can do this!'"
Norman Franklin, Retired engineer

Authors: Sophie Chudacoff, Eliza Crawford, Sunny Glasser, Mary Lyday, Jane Madeline, Henry Markosian, Mori Morrison, Kay Roberts, Laurel Shapiro, Louis Weinstein, Howard Westley. With editing, preface and writing tools by Ina Hillebrandt

Order yours now from Amazon.com, Border.com B&N.com or your favorite bookstore!
STORIES FROM THE HEART, VOL. 2
Publisher: Pawpress
ISBN 1-0880882-04-6

From Great grape fiascos to wars...wit and wisdom from India, Hungary, South Africa, Poland and the United States...by the Pawprints Writing Club



"This book is so good...the Pawprints writing group creates a sense of community, which people lack these days. People get to tell their stories -- that's the beset thing. And the book is beautiful. With the book, the website where I read some of the stories first, altogether, what a great service!"
Diane Slade, artist and therapist, Napa, CA



Poignant, funny, tender, frightening and insightful memories narrated in the distinctive voices of Angelenos originally from a range of contents, countries and times

See authors read selected stories in a live show taped at the book launch

Buy your copy now --



"These words are alive! They're so honest, they're really refreshing! Completely charming....reminds me of so many stories in my own life." G.S. Board Member Library, Music programs, Los Angeles

"There's something in here for everyone -- the people are from so many different backgrounds, and their stories are all so entertaining!" M. Norello, Architect/Designer, L.A.

"The section I most enjoyed was a few punning stories about cats by the late Earl Boretz, which were most amusing. His characters include Count Fe-Line the cat burglar in 'Pussy Footin' Around'; Sinister, the three-legged pirate cat and Sorrowful, the witch...Overall, an entertaining collection." Cecilia Blight, Nelm News, newsletter of The National English Literary Museum,
Grahamstown, S. Africa


STORIES FROM THE HEART, Vol. 1
Publisher: Pawpress
ISBN 1-0880882-07-8

Tales from Grownups, Fanciful and True

Arabella Bel-Mitchell


Earl Boretz


Eliza Crawford


Alfredo A. Hernandez


Rose LaVine


Bill Safier

"These stories are so much fun! And they make me think, 'I can do that!'"
Sarah French, New York

"I love the cat stories by Earl!"
Bob L., NYC

"Thank you, Ina, for helping our Dad and for bringing us closer. We've been anxious to see the stories he wrote about the family, and surprised to see all his about the (fictional) family of Mo the cat...glad he's making people laugh and inspiring them to write." Children of Contributor to "How to Write Your Memoirs" and "Stories from the Heart"

Price $14.95, plus shipping and handling


AND A NEW PUBLISHING SERVICE -- HELP WITH YOUR OWN IMPRINT


The Angel Chronicles by J.K. Johnson is a captivating mystery/romance with a connection to the other world.
The book represents a new service from Pawpress:
We help you with every step of the publishing process using your own imprint.
Or, if your book fits our catalog, publish with us under the Pawpress imprint,
as in the books below.

Hot off the Press!
Come to the Book Launch Party!
Press Release

- or -
Ask your local bookseller

Pawpress is proud to announce Chrystine Julian's second book of pulsating poetry

Meandering Mindfulness...
Poetry from the place where wander and wonder merge

Edited by Ina Hillebrandt
Publisher: Pawpress
ISBN 978-1-0880882-13-9

Once again Chrystine Julian paints a colorful world of the sensual, spiritual, political and this time, the "silly," in a book that appeals both to seasoned poets and those who usually read prose.

"Chrystine Julian's poems carve out a space for themselves...one surprising slice at a time. Even the short pieces are mighty in meaning and insight. From the very few lines that embody a world view of trees to the vulnerability of passion and love, Chrystine manages to touch the heart, and intrigue the mind. I highly recommend her lovely book of poetry, Meandering Mindfulness."
Ruth Light, Women's National Book Association

"I recently picked up a copy of 'Meandering Mindfulness' by Southern California Poet, Drummer and Workshop Leader, Chrystine Julian. And though I've only had it a short time, it already has the look of a worn out favorite."
Read whole review on Bellaonline by Deanna Joseph, Inspiration Editor
http://www.bellaonline.com/articles/art62394.asp


Read a poem from sensual spirit:


"

God Called Me to His Office

"




"

Messiah Girl Melissa

"


"Chicken"
"America the Unattractive, July 4, 2008" "Wonderfully Endless Thing"


Scroll down to find out about Chrystine's first book, and how to reach her!

NOTE: Chrystine's poems are in pdf. Use the adobe icon left if you need to download Adobe Acrobat (easy and quick!)

Now in its third printing!

"What a rapturous book! Chrystine Julian weds wit and wisdom, body and spirit, in these poem. Her warmth and humor and deep insight radiate off every page." Gayle Brandeis, author of "Fruitflesh, Seeds of inspiration for women that write," "Self Storage" and the Bellwether Prize winner, "The Book of Dead Birds"

More reviews

Read a poem from sensual spirit:
"Awakened to Love" "Drama in Real Life" "Love Left," "Soft," "The Dragon"



Sensual Spirit...poetry and thoughts from the place where body and soul meet
By Chrystine Julian
Edited by Ina Hillebrandt
Publisher: Pawpress
ISBN 978-1-0880882-11-5

In

Sensual Spirit Chrystine Julian demonstrates why she has been proclaimed "an amazing modern day poet seer." This collection emerges from her shamanic and mystic experiences of blurring the line between body and soul. She sews images of passion, love, longing and

social consciousness into a complex quilt of words.

As literature, Sensual Spirit is well crafted modern verse that is delightful to read aloud. As mysticism it follows the tradition of ancient wisdom keepers, using the carnal to explore the spiritual and the ethereal to understand the down to earth world.

See the back cover, with more information about Chrystine, reviews a short excerpt from the book. Chrystine can be reached through her website www.ChrystineDrums.com.

Note: You can hear Chrystine perform her work in various venues around Southern California and other parts of the country. Check her website for appearance schedule You'll really be glad you did!
www.ChrystineDrums.com

To read any of the poems, you need Adobe Acrobat Reader. If you don't have it, just click the easy icon left.

"Once I started, I didn't want to stop. A great book for people who are interested in current affairs, historians, anyone interested in history."


Larry N. Beard, Col. (Ret.) US Army


Go East, Young Man, Go East!
By Charles Alan Tichenor
Edited by Ina Hillebrandt
Publisher: Pawpress
ISBN 1-0880882-09-4

Memoirs of an eyewitness to the oil boom and culture clashes of the Middle East.

Glimpses into history in the making. Dr. Tichenor, a.k.a. "The Cat," or "Unk," begins with life as he lived it in 1920's America, moving ever eastward to the Middle East mid-century, where he was sent as a minister to work with the Aramco flock.

Today called Saudi Aramco, the oil giant is the largest in the world...and it all began with secret treaties, a Saudi American partnership, a benevolent king, somewhat reluctant Bedouins, camels, and black gold....

Contains photos, glossary and index.

New! Memoir Writing Classes, Training for Groups!
Ina is available to train your staff. Unique, easy to learn creativity and motivation tips and tools make it easy help your seniors get all the benefits of writing their memoirs -- a heightened sense of well being, enthusiasm for living, knowledge they are creating a valuable gift for themselves and their families.
Classes also available for your members, residents.
Optional book production and design for individuals and groups.
See also Grownups Memoir Workshops Contact us for more information.

Have a book you want to get into print?size: 14px">


We've expanded our author printing services. See if your project is a fit. We'd be happy to help.

"This curriculum guide is great -- very easy to use, and makes kids want to read, and write, from the heart. Plus, it's really good for science, too! " Judy Rubin, Elementary School Teacher, grades 1 and 2, Bensalem, PA

"Pawprints is delightful! There's nothing like it...The stories really stimulate kids to write. Using Pawprints involves observing the behavior of living things, plus reflecting, reading and writing. It has it all. It's a wonderful idea, all around." Ginger Krell, 7th Grade Science Teacher, Lone Hill Middle School, San Dimas, CA

Read more reviews

Pawprints -- The Student Prints
The Educators' Guide to the
Pawprints Literacy Plus Program
Publisher: Pawpress
ISBN 1-0880882-03-5


.
Kay Dicks, First Grade Teacher, San Fernando Elementary School, Los Angeles

Read more teachers' comments.

Contact us about classes, teacher training! Please be sure to fill in the comment areas with your email or other contact info, and questions so we know how to help you!


Pawprints

is available by asking at your favorite bookstore, or you can get it in 24 hours at Amazon.com (above) or Barnes & Noble online at

B&N.com.

More books available now: The official Pawprints Journal, dog and cat lovers' versions. Visit our online store by clicking the shop below. More books coming soon!


PURR-FECT GIFTS! Wearables and other fun gifts featuring Pawprints fuzzy stars. Great gifts for kids, grownups and furry friends! Click the mug on the left to whisk off to our secure online store!

"I just bought 12 matching Tee shirts for my kids and grandkids, and one for me. Won't it be fun to see us all in the same shirt?"
Sophie C., L.A.

Just a few examples of goodies from our online store:
"In Paws We Trust"™ and "May the paws be with you"™ Collections for Dog and Cat Freaks, like us!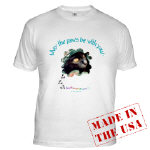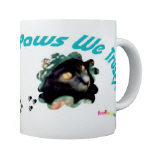 Check our store for Specials!!!!!