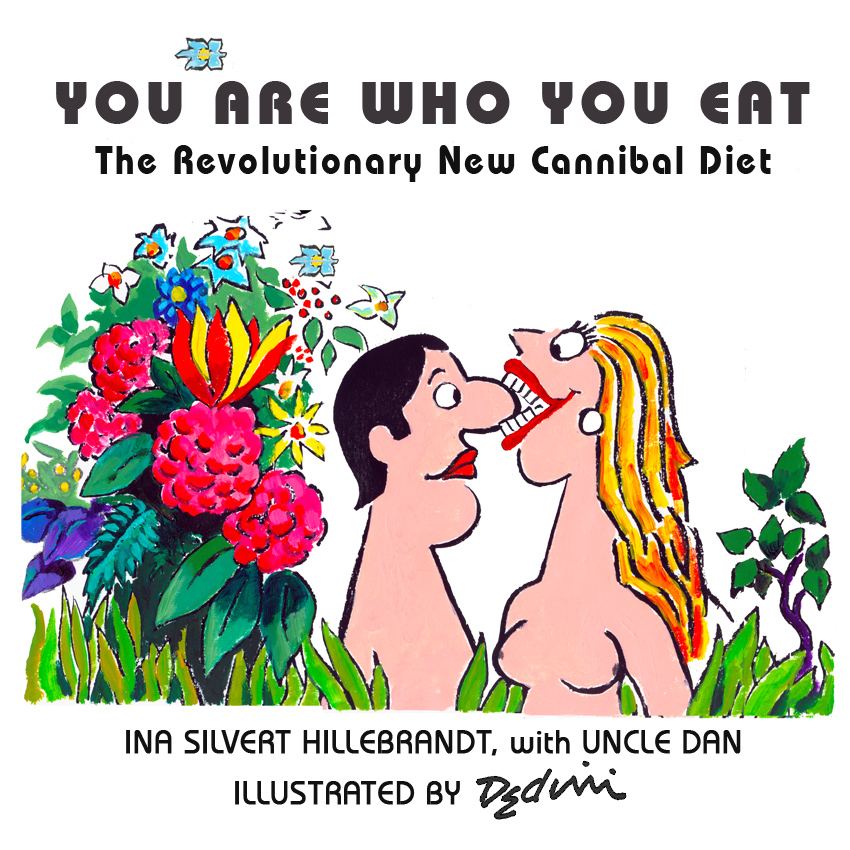 What the ...?
You Are Who You Eat
The Revolutionary New Cannibal Diet?
Well, have you been trying to lose weight? Forever? Alrighty, then. Have we got a plan for you! You Are Who You Eat has weight loss tips that apply to all of us, cannibal and civilian alike. Sprinkled liberally with cannibal jokes, and highly seasoned with cartoons by world renowned Playboy, Esquire, and The New Yorker artist Dedini.

Publisher Pawpress is proud to announce that the book is now in the collection of The Billy Ireland Cartoon Library & Museum at Ohio State University, where a number of Dedini originals are housed. And Author Ina Hillebrandt won the coveted IRWIN Award for Most Provocative Book of the Year, Dec. 2016!

Available EVERYWHERE -- Amazon.com, BN.com, Diesel Bookstore and Chaucer's Books, and other fine booksellers and e-tailers worldwide! Watch our Facebook page and Twitter for more news.
Back Cover has rave reviews! More reviews, recipes to die for, look inside and more on our book's own website: http://YouAreWhoYouEat.net.
GREAT FATHERS DAY GIFT! You Are Who You Eat. Illustrated by The New Yorker, Playboy, Esquire artist Dedini!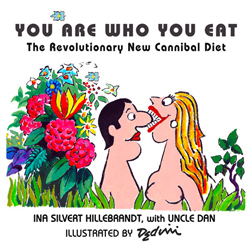 ORDER YOUR COPY NOW!
Amazon.com

BARNES & NOBLE!
Chaucer's Books in Santa Barbara

Free downloadable bite for VICs (Very Important Cannibals! Get yours now!

Home | Pawprints Gifts | Pawprints Reviews | Get Published | Grownups' Pawprints | Write a Review! | Your Story Here! | Pet Eulogies | Links | Contact Us

Animated graphics from AnimationFactory.com. Not to be copied or used for personal or commercial purposes without permission from AnimationFactory.com. Pawpress, InasPawprints.com, Pawprints Literacy Plus, Comic Release, Grief Lifters, Idea Magic are trademarks of Ina Hillebrandt. All books © by Ina Hillebrandt/authors.

Website © 2003 Ina Hillebrandt. Updated regularly. Latest update February 2016. Entire site under revision, coming by mid-2016. All rights reserved. No video, audio, text or graphics may be used except where indicated. Please contact Pawpress for information on reprints or other uses.