Thank you for visiting our site! We welcome your feedback. Please send us an e-mail to comment or ask questions about our products, our services, or to schedule workshops or visits by the author. You can also send us a review using the e-mail link below. And let us know if we can post it!

New! Ina is a highly motivating writing coach, in person, virtually, or on the phone.

And Pawpress is now offering publishing services to writers, both new and previously published authors. Please check on the Pawpress Publishing Services for information.


Pawpress is proud to announce our new baby -- You Are Who You Eat. Illustrated by the delightful Dedini!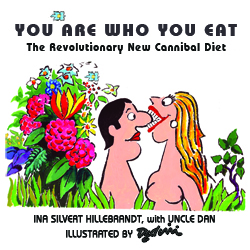 FREE DOWNLOADABLE BITE!

We'll sign you up on our VIC list (Very Important Cannibals). You'll get tastes of cannibal jokes and cooking tips from the book before it's available to mere mortals.
PRE-ORDER YOUR COPY NOW!



For news about the book, or to share a cannibal joke, follow us!





Home | Pawprints Gifts | Pawprints Reviews | Get Published | Grownups' Pawprints | Write a Review! | Your Story Here! | Pet Eulogies | Links | Contact Us


Animated graphics from AnimationFactory.com. Not to be copied or used for personal or commercial purposes without permission from AnimationFactory.com. Pawpress, InasPawprints.com, Pawprints Literacy Plus, Comic Release, Grief Lifters, Idea Magic are trademarks of Ina Hillebrandt. All books © by Ina Hillebrandt/authors.

Website © 2003 Ina Hillebrandt. Updated regularly. Latest update February 2016. Entire site under revision, coming by mid-2016. All rights reserved. No video, audio, text or graphics may be used except where indicated. Please contact Pawpress for information on reprints or other uses.